The component estimates human head movements (yaw, pitch, roll) and direction of the eyes related to a user in front of the content of a computer monitor, deriving information about his state: attentive, distracted or nervous.
Feedback from both gaze and head pose metrics, simultaneously associated to a user in front of a camera, are processed by the component which offer a non-intrusive way to control user movement in an environment.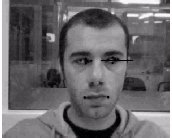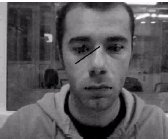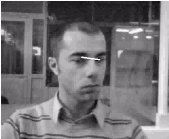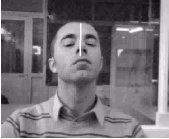 ---
Availability of the component
: Reference contacts are
Amaryllis Raouzaiou
  and
Stelios Asteriadis
  of Institute of Communication and Computer Systems - National Technical University of Athens.
Notes
: Interested parties can request the component who can be made available for non commercial use.
---
Besides functional tests, extensive experimentation of Gaze detection and Head Pose estimation in CALLAS is done in
Proof-of-Concepts
applications for affective edutainment :
the Interactive Opera : the component was used to improve the stability of facial expression recognition by making it possible to function under head movements. By recognising Head Pose, the algorithm can use the rotation angle to map Facial Animation Parameters back to frontal views, and increase robustness to Facial Expression Recognition.
Additional reference to the component usage is made in
CALLAS Newsletter2
and in the following CALLAS papers and articles: