The Image, Video and Intelligent Multimedia Systems Lab (IVML) of ICCS (Institute of Communication and Computer Systems of the National Technical University of Athens) is a
member of CALLAS
.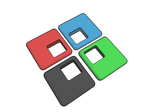 The Lab was established in 1988. Twenty graduate students have obtained their PhD working in IVML, while ten are pursuing their PhD in it. The members of the Lab are active members of the research community having published more that 100 journal articles and 200 international conference contributions.

The most important areas of R&D activities performed or supported by IVML include:
Face, Emotion and Biometric Analysis and Recognition
Intelligent Human Computer Interaction and Intelligent agents MPEG-4 and Natural - Synthetic Hybrid Coding
Knowledge Based Adaptive Image and Video processing and analysis
Artificial neural network, fuzzy and neurofuzzy technologies
Content-based semantic retrieval of multimedia information
The MPEG-7, MPEG-21 standards and Semantic Web technologies
Augmented Reality and Applications in Cultural Heritage, Surveillance, Communications, Medicine.

IVML has been involved in seventy R&D projects (thirteen of them in progress), thirty of them funded by the European Commission and the rest by Greek organizations. Among the most relevant for CALLAS:
IVML has led the TMR project "PHYSTA" (1998-2001) on principled hybrid systems, dealing with the development of hybrid systems using symbolic techniques from the artificial intelligence field and sub-symbolic techniques from the computational intelligence field, with application to the problem of emotion recognition.
Emotion analysis also constitutes the scope of the IST "ERMIS" project in which IVML is a partner (2001-2004).
IVML was also one of the WP leaders of the HUMAINE NoE on Emotion Recognition Systems (2004-2008).
Moreover, IVML participates in the 6th framework in the STREP Feelix-Growing (2006-2010) on Cognition.
IVML participates in the design and implementation of intelligent semantic analysis and retrieval of multimedia content, following the MPEG (4,7,21) and Semantic Web standards. The leader of the Lab, Prof. Stefanos Kollias has been one of the experts that the EC has used for defining the framework of 'Semantic Content Analysis' and its perspective for 2012.
IVML has completed the IST project "FAETHON", dealing with unified intelligent (neurofuzzy) content-based access to heterogeneous audiovisual data (2001-2004).
IVML participates in the 6th framework IP ACEMEDIA on semantic-based adaptive multimedia analysis systems (2004-2008), in the NoE MUSCLE on intelligent adaptive multimedia analysis (2004-2008), in the NoE Knowledge-Web on semantic Web technologies (2004-2008) and in the IP Ask[IT on knowledge-based assistance for mobility-impaired people (2004-2008).
IVML participated in the IST project "ORESTEIA" (2001-2003), developing hybrid intelligent artefacts for human computer interaction, in the framework of the "Disappearing Computer" Initiative of the European Commission