The University of Paris 8 was  a member in CALLAS until 2008. It is specialised in Art and Science, with a particular emphasis for new technologies.
The IUT of Montreuil is part of the University of Paris VIII. The Laboratoire en INformatique et Communication, LINC, has been created in April 2000 at the IUT of Montreuil.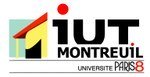 The research of the lab is defined around two main themes: communication and technology. The goal is to define paradigms and interaction models for human-machine communication.
The approach is pluri-disciplinary by nature and is based on various fields: heterogeneous databases, computer vision, decision making, fuzzy logic, multimodality, hypermedia, conversational agent.
Several projects are being conduced in the area of multimodal adaptive interfaces with focus on applications for e-learning, interactive affective ECAs, and visual perception and attention models.
Website:
www.univ-paris8.fr